Profitability FIT™
Bank Profitability Measurement | Loan Pricing and Customer Profitability
Are you looking to win more deals and maximize your bank's profitability?
Profitability FIT provides a 360-degree relationship view so you can determine the best loan pricing based on your customer data while driving higher bank profitability.
---
Key Benefits:
Optimized risk-based loan pricing
Increased customer segment profitability
Manage deposit pricing and fee waivers
Spend less time evaluating exception pricing
PCBB's expert advisors whenever you need them
How Profitability FIT Can Help You Increase Profitability
I can't say enough about the benefits of this product. It is a great resource and tool for the commercial lending team.
Win New Business
Profitability FIT Delivers Competitive and Consistent Loan Pricing
Price loans with consideration of capital, loan risk and cost assumptions to determine the best risk-adjusted return for your institution and the best price for your customer.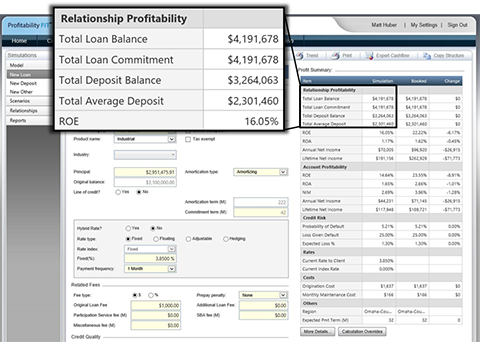 Profitability Based on Each Unique Customer Relationship
With Profitability FIT you can identify:
| | |
| --- | --- |
| | Cross-sell opportunities |
| | Lifetime risk-adjusted profitability |
| | Share of wallet |
| | Strategies to increase revenue from unprofitable loans and customers |
| | |
| --- | --- |
| | Underutilized credit lines |
| | Loan-only and CD-only customers |
| | Significant overdraft customers |
| | High cost of funds customers |
Comprehensive Reporting & Insights
View your entire customer base by:
Profitability
Large balance fluctuations
Loan maturities
Renewals
View Profitability by:
Account
Officer
Industry Segment
Branch
Create what-if scenarios by:
Relationships
Loans
Deposits
Capture Householding view with:
All personal accounts
All business accounts